Wondering what to introduce your little ones from the learning world this week? Today's blog is all about an easy and fun theme kids love to learn about – Shapes. Its easy because its all around you. Whether you are at home, shopping or at the park, you are sure to find shapes. For instance, buttons, coins, napkins, eggs and even doors!
To begin with, circles, squares and triangles are the most common shapes. All kids love to spot and guess these forms. Then there are pentagons, hexagons, heptagons, octagons, and more. You can use so many ways to learn and practice shapes.  Talking, shape hunting, shape toys, colouring, playdoh are a few activities to try.
Did you know? Learning shapes not only helps children identify and organize visual information, it helps them learn skills in other curriculum areas including reading, math, and science.
In this post, we are going to show you a few books about shapes with some rhymes and a craft that you can share with your tots.
Bear
in
a
square
  by Stella Blackstone
Share the adventures of a big, friendly bear as he roams through all sorts of crazy settings, discovering different shapes along his way. Look very closely and you too may be able to find squares, circles, triangles, zig-zags and even stars cleverly hidden in the pictures. With its vibrant art and jaunty, rhyming text, Bear in a Square offers a fun-filled and exciting way of helping small children to learn their shapes. It also gives plenty of counting practice!
At story time, the kids had fun counting and guessing the shapes in the book. We talked about different shapes and colours. The zig zag shapes were new to the children. Its fun and interesting with bright colourful pictures.
Watch this! : a book about making shapes by Godwin, Jane
Can you make a circle with your arms? Or a triangle with your fingers? If we work together, we can make a rectangle, or even a pyramid. We can make lots and lots of shapes – just watch this!
This book is full of action and excitement.  You can get kids to move around making shapes with their body. Its a book of individual and team activities with some questions you can ask while they form shapes.  There is bending, stretching, and giggling. This book influences kids to  learn about shapes.
Spot's big lift-the-flap book / Eric Hill
Play and learn with Spot and his friends in this BIG first concepts lift-the-flap book, full of fun! Play and learn with Spot and his friends in this BIG first concepts lift-the-flap book, full of fun! Count animals in the farmyard, search for shapes in the garden, and find colours behind each door in this playful and interactive lift-the-flap book.
Lift-the -flap books are always a favourite at storytime. The kids love to guess what's hiding behind the flaps.  It's a beautiful book to introduce shapes, colours and numbers.
I Can See Shapes
A beautiful action rhyme about shapes sung to the tune of "London Bridge". You can use this rhyme to introduce your child to all sorts of shapes from circle to heart.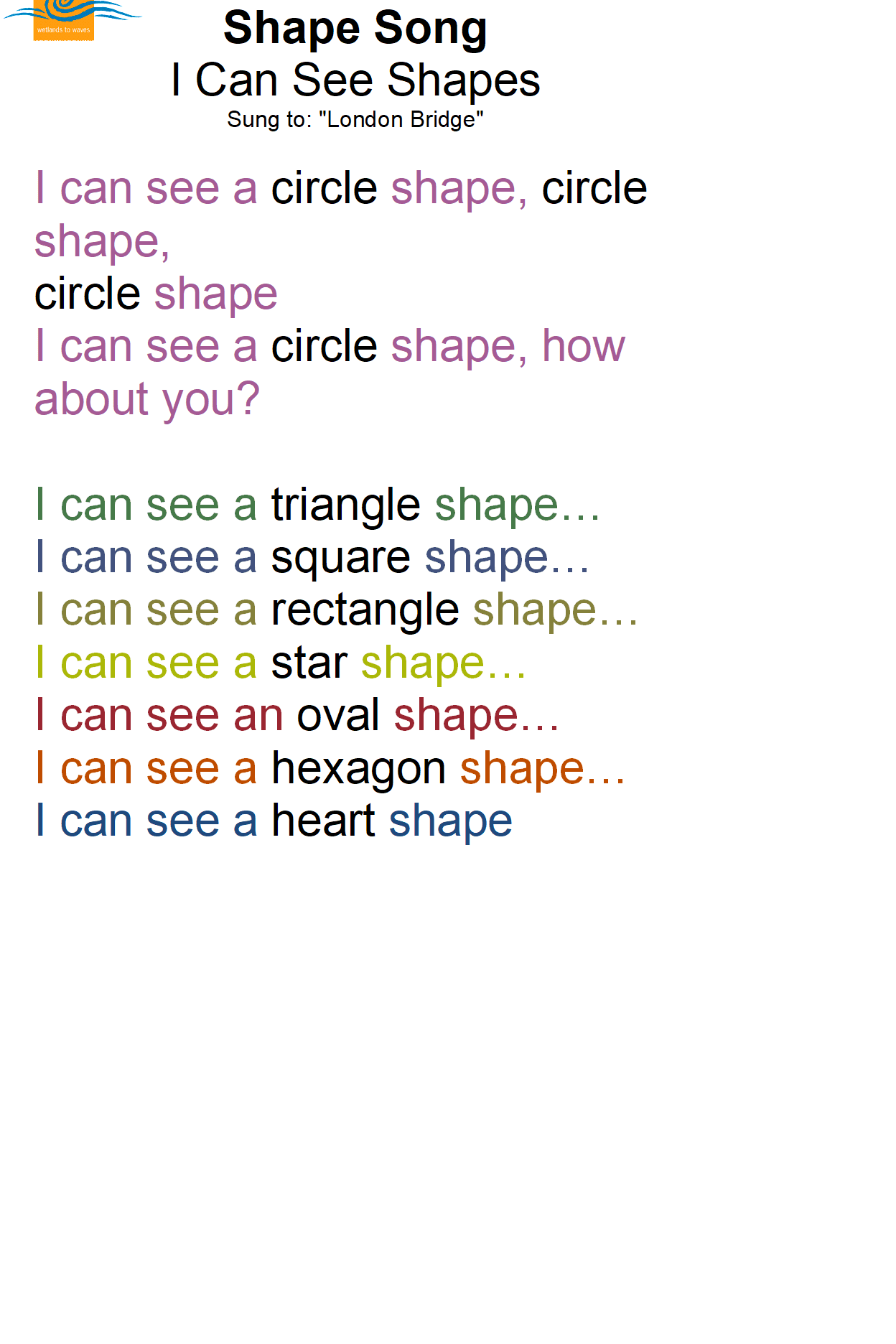 Circle Song
If you love circle shapes, then this song is for you. It's a rhyme all about circles – how to make one holding hands and where to find circles around you.
Instructions:
Cut out 1 large oval, 1 medium oval, 2 large triangles, 1 small triangle
Glue the medium oval onto the large oval
Glue googly eyes above medium oval
Glue small triangle point-down under the eyes
Glue large triangles as wings
Glue popstick to back of bird