I always enjoy doing this theme at Storytime. The children always tell me they have never, ever been naughty. Their parents always get a laugh from this. The reality is, of course, that they are all naughty sometimes. Whether it's refusing to eat their vegies, not wanting to go to bed, throwing a tantrum, not sharing or putting away their toys or biting or hitting, there will be something! My own children, when they were little, drew on the walls with crayon, the entire length of the hallway. As high as they could reach and down to the floor. It took hours to clean off.
Stories can help children learn right from wrong and the difference between good behaviour and bad behaviour.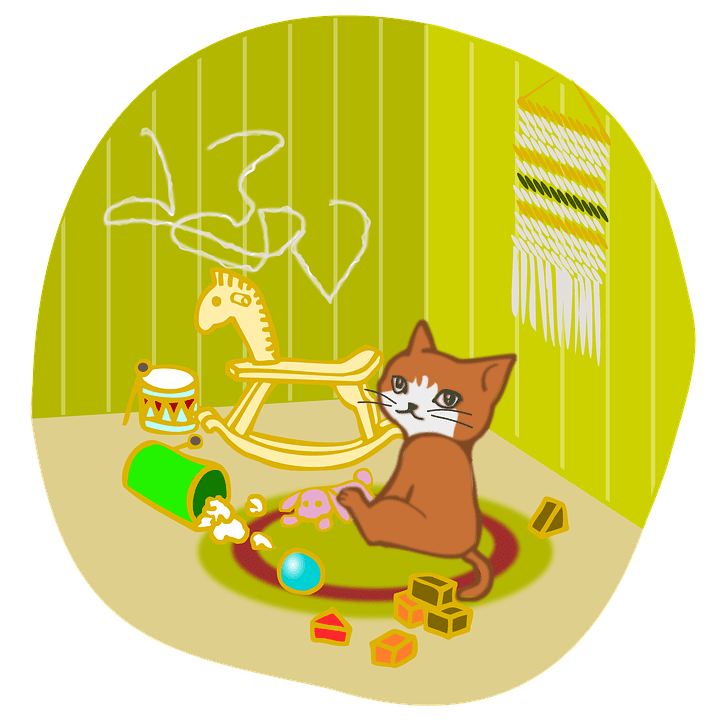 Pig the Pug / Aaron Blabey
Pig the Pug features in a series of books. Pig is known for his bad behaviour, which includes being selfish, greedy, lazy, a cheat and a liar. He is one naughty dog! Each story is written in playful rhyme with lively, bold illustrations. Following Pig's antics – like being unwilling to share his toys, cheating in a kibble eating contest, lying to his best friend, being too lazy to go outside to play – Pig always learns his lesson. For example, in Pig the Fibber, Pig tells a lie to get his way and blames his friend Trevor for the mess he made. This book teaches children the consequences of lying and the importance of telling the truth. The Pig the Pug series of books are funny and entertaining, while teaching children valuable lessons at the same time. Keep an eye out for the newest and tenth title in the series, Pig the Rebel.
A Stack of Alpacas / Matt Cosgrove
When Macca's nieces and nephew, Roo, Reece and Drew, come to visit, Macca expects them to follow the rules. But there is smashing and splashing, jumping and thumping, fighting and biting! The young trio are nothing but trouble! Will these naughty little alpacas make amends? Uncle Macca sure hopes so. With bright, colourful and engaging illustrations, alongside rhyming text, this book is entertaining and fun to read aloud.
Bad Cat! / Nicola O'Byrne
Fluffykins is a very naughty fluffy ginger cat who wreaks havoc around the house. He starts by pushing over a vase of flowers, then it's time to unravel balls of wool and the toilet paper, scratch the furniture and climb the blinds. The naughtiness culminates with him weeing on the floor. Will Fluffykins say sorry and be forgiven? With minimal text, a lot of the story is communicated through the wonderful, expressive and amusing illustrations. This is a fun book to read aloud, and its large size makes it ideal for Storytime.
Three Little Kittens
The naughty kittens have lost their mittens. And their mummy won't let them have some yummy pie unless they find them!
Shake your Sillies Out
Shake your sillies out, clap your crazies out, jump your jiggles out and jog your jitters out with this energetic song. I also like to include nod your naughties out.
Finger puppets are great for role play. They also help develop oral language skills, stimulate imaginations and creativity, help develop fine motor skills, are great for confidence building and they make learning fun! These finger puppets are great to use with the book A Stack of Alpacas.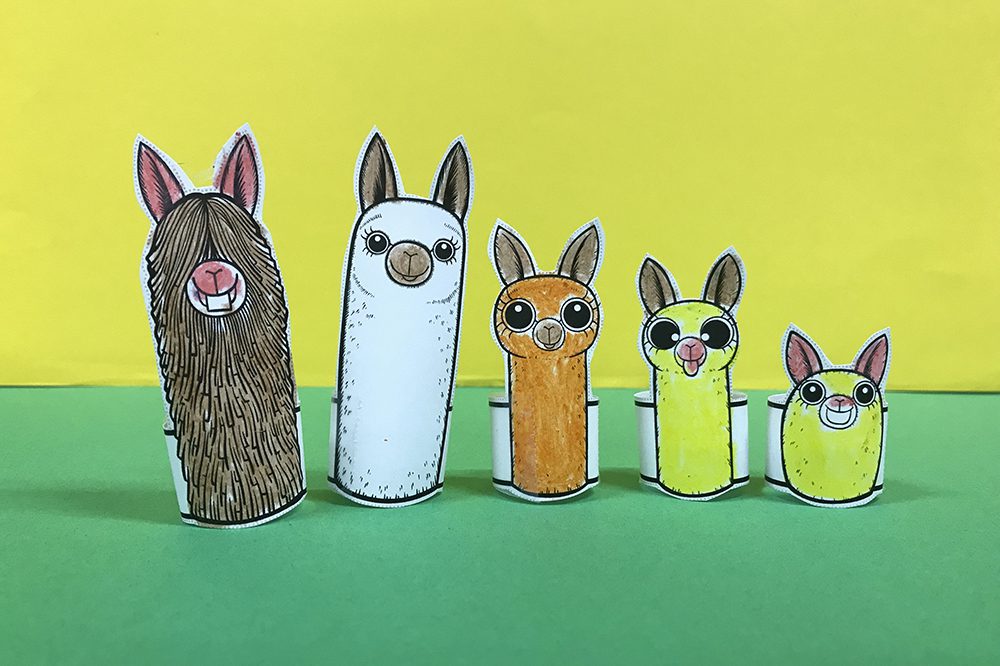 Materials needed:
White A4 cardstock
Crayons, pencils or textas
Scissors
Sticky tape
Printer
Method:
Print the finger puppet template onto the cardstock.
Colour in Macca, Al, Roo, Reece and Drew with crayons, pencils or textas.
Cut out the puppets by following the dotted lines.
Use tape to join the side tabs together, forming a ring. (Make sure the hole is the right size for you).
Put them on your fingers!
Act out some scenes from the story and use funny voices!