Weddings are something around us at different points in our life. My friend (whose name is also Jessica – it was the most popular name for girls in the year we were born) is getting married on the long weekend in September. She has asked me to be a bridesmaid and while she wants to do things low-key we have still gone shopping for a wedding dress and bridesmaid dresses. She is hunting for a vegan caterer and getting to chose all of the songs we will dance to at the reception (I'm planning on hiding a pair of comfy shoes under my long dress). It's fun and exciting and I want to help her as much as I can.
When we went wedding dress shopping her niece came along and had lots of fun – telling Jess what dresses she did and didn't like and especially trying on a VERY amazing dress with a poufy skirt and bow at the end.
I had already decided to write this blog when I was told about the wedding but it was a good reminder of how much children love to be part of things in our lives and how much joy they can bring to something. Weddings can also be a cause for some anxiety because it's a formal sign that things will change and while often life continues on as it did before it's not the case in all families or cultures.
The Perfect Flower Girl by Taghred Chandab & Binny Talib
Amani is going to be a flower girl, she is counting the days. And there is so much to do: cooking with Tatya, visiting the dressmaker, dancing at the party with all the bride's friends. But when the wedding day comes, and the guests are waiting, will Amani be the perfect flower girl?
This book features the lead-up to a Lebanese Muslim wedding. At the start of the book there are a couple of paragraphs providing some background to the events that take place as well as a glossary of terms. While traditional Muslim weddings would not include bridesmaids or flowergirls this family has welcomed that tradition into their wedding. This is a lovely celebration of the fun and family associated with weddings and an opportunity to learn about a different type of katb il kitab. 
Julian at the Wedding by Jessica Love
Julian and his nana are attending a wedding. Better yet, Julian is in the wedding along with his cousin Marisol. When wedding duties are fulfilled and with a new dog friend in tow, the pair takes off to roam the venue, exploring everywhere from underneath tables to enchanting willow trees to… muddy puddles? After all, it wouldn't be a wedding without fun, laughter and a little magical mischief.
This book is a sequel to Julian the Mermaid, which is also a very sweet story. One of my favourite things about the book are the stunning illustrations done in washed out watercolours. 
Aunty's Wedding by Miranda Tapsell & Joshua Tyler with illustrations by Samantha Fry
Everyone on the island is getting ready for Aunty's wedding. Maningawu puts on her best hat and I can wear a wurrijinga in my hair. Lucky! We all dress up, but I still don't understand. Why do people have a wedding? A warm family story that celebrates love and culture on one very special day.
Taking us into a Tiwi wedding this simply written and wonderfully illustrated picture book immerses readers in the traditions associated with weddings on the Tiwi Islands. There is a glossary of pronunciation, and definitions, for the Tiwi words in the back along with some additional information. 
Uncle Bobby's Wedding by Sarah S. Brannen and Lucia Soto
Chloe is not happy that her favourite uncle Bobby is going to get married to his boyfriend Jamie. But after spending a fun-filled day with Bobby and Jamie, Chloe realises she's not losing an uncle, but gaining a whole new one! An uplifting celebration of love in all its forms.
Uncle Bobby is Chloe's favourite uncle and he's about to get married but Chloe isn't sure it's a good idea; she doesn't want things to change. This is a great book for children who are feeling a little anxiety around a change in their family and a reminder that someone marrying into your family means another person to love and have fun with…hopefully. 
Why Can't I Be a Dinosaur by Kylie Westaway & Tom Jellett
Today is Aunt Daisy's wedding and Nellie knows exactly what she wants to wear — and it's not her flower-girl dress. 
Nellie wants to be a dinosaur at her Aunt's wedding. While I would love to do to a wedding where the bridesmaids wore dinosaur costumes that's not Aunt Daisy's vision, will Nellie change her mind? A sweet book about sometimes having to do things for others. 
Songs
Rather than rhymes today I've included a few songs, one a boppy number perfect for dancing around the kitchen, or a wedding reception, and the second just for those baby shark fans. Enjoy!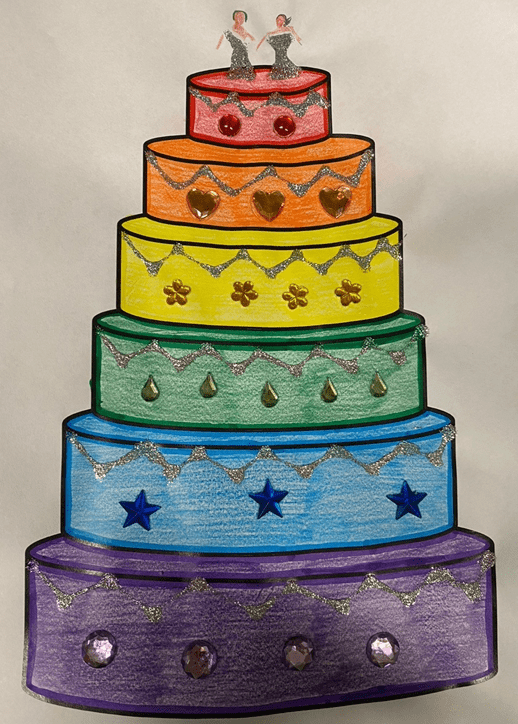 What You Need:
Cake template
Coloured pencils/textas/crayons/etc.
Glue
Glitter glue
Rhinestones/sequins
Instructions:
Colour in your cake template.
Decorate with glitter glue and sequins as desired.
Add a cake topper with the lucky couple.