Science…for some people this word brings a lot of joy, memories of experiments and the way we test out the world around us. But for some people science is a terrible word linked to bad experiences but that can be changed.
Science can be fun, and it can be joyful, and yes, I'm one of the first people who really likes science but I have yet to meet a child who isn't a little scientist because a scientist is just someone asking why, testing things out, seeing what something tastes, smells, looks, sounds, and feels like and that is what kids do. It's later that science can become something else but I hope anyone reading this will take the time to try a little science with their children and hopefully help create the next little Dr. Karl. Children don't have preconceptions about things like science and maths, so if we make it fun for them now they will carry that forward and hopefully nothing negative will alter their enjoyment. 
Today, I'm going to help by sharing some books to read about science and a bunch of science you can do, and probably are already doing, at home. 
The River by Sally Morgan and Johnny Warrkatja Malibirr
The River takes the reader on a journey of what their eyes can see and their ears can hear. See green ants crawling, hear frogs croaking, a goanna running, a fish splashing… Sally Morgan's beautiful words and Johnny Warrkatja Malibirr's sensitive artwork combine to make this a unique, distinctive children's picture book with global appeal. Johnny infuses his illustrations with his fine-art aesthetic and his traditional motifs to bring each page to vivid life.
Notable in this year's Children's Book Council of Australia's Book of the Year Award – Early Childhood, this book is a delightful trip through the river with the sounds and sights of different animals, and a lovely book to share before going exploring at the river, or Bibra Lake…what can you see and hear?
Saving Seal: The Plastic Predicament by Diane Jackson Hill and Craig Smith
Seal has made his home in the waters of a coastal village, but he often finds himself trapped and ensnared in the plastic rubbish filling the Bay. Fortunately, he is rescued by Lizzie and Grandpa Dave. Lizzie and Grandpa Dave are motivated to do something about cleaning up their Bay and saving the marine life who are being threatened more and more by the rubbish found in the Bay and on their beaches. They encourage the town's people to join them in their fight against plastic pollution devastating their beaches and harming marine life. This is a story about how we can make a change, about cooperation and making the right choices and making them now.
Notable in this year's Children's Book Council of Australia's Book of the Year Award – Eve Pownall Award for Information Books, this book will ask children to think about how what we do affects the world around us. 
Wombat by Christopher Cheng and  Liz Duthie
Far underground, where dirt and tree roots mesh, are tunnels that lead to a burrow, and in this burrow Wombat's day begins. A story about the life of a wombat, looking at the interesting way these animals build their homes, look after their family and protect themselves from predators. 'Wombat' is a new addition to the 'Nature storybooks' series, which feature a lyrical narrative and engaging nonfiction combined with stunning artwork to pique the curiosity of young minds.
Notable in this year's Children's Book Council of Australia's Book of the Year Award – Eve Pownall Award for Information Books, this book will take children into the lives of wombats in a factual way that remains close to a picture book. 
The Way of the Weedy Seadragon by Anne Morgan and Lois Bury.
The weedy seadragon is an amazing fish with a talent for camouflage, weird eating habits and a unique courtship dance. But its habitat and future are threatened. This enchanting story takes you under the sea to meet this mysterious sea creature, and reveals its weird and wonderful ways.
Notable in this year's Children's Book Council of Australia's Book of the Year Award – Eve Pownall Award for Information Books, who else remembers seeing weedy seadragons at AQWA? If so, this book will delve more deeply into these wonderful creatures and their lives. 
Today, instead of rhymes and craft I'm going to share some fun science activities and experiments to do at home.
Science!!!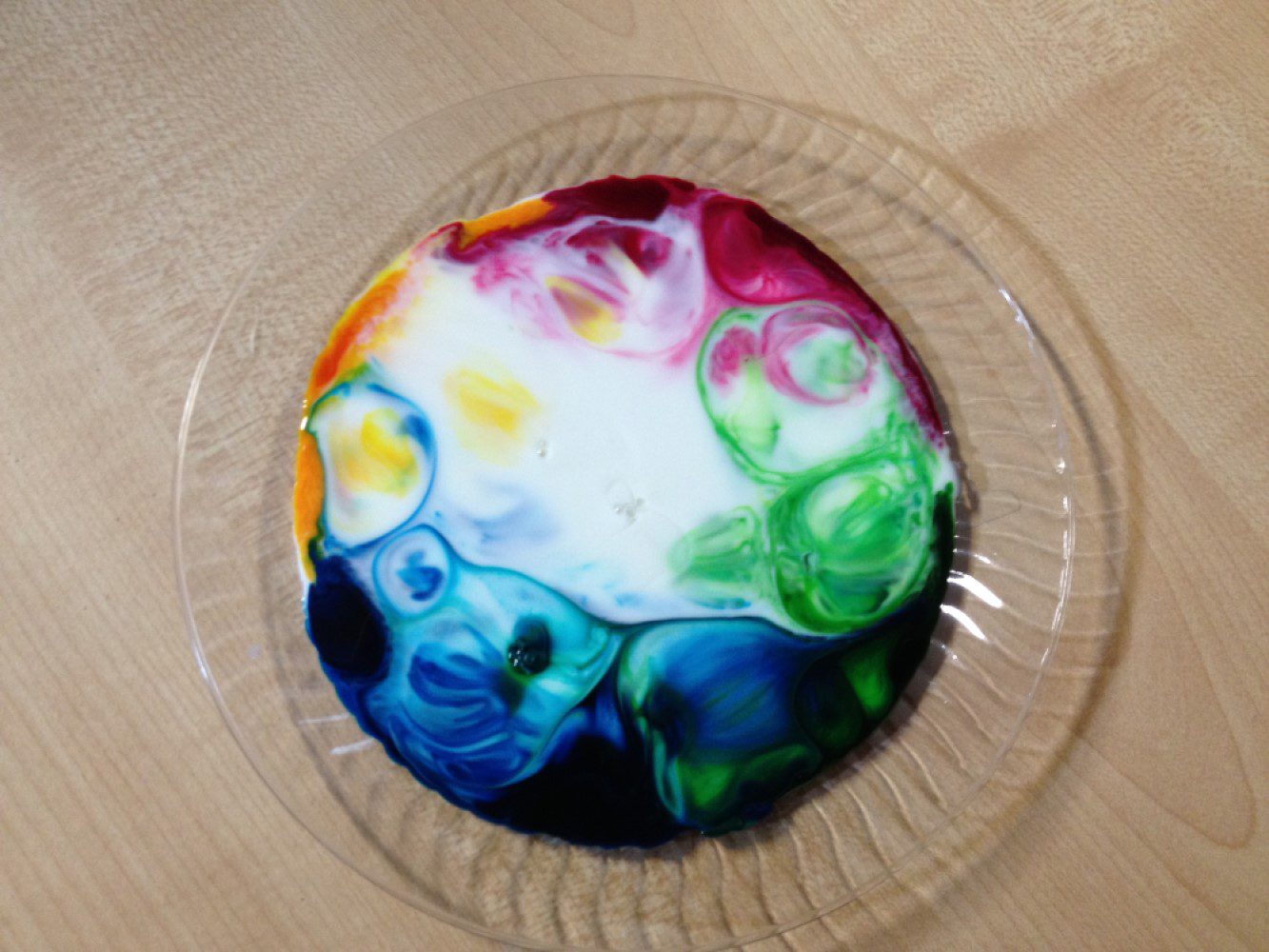 Milk Experiment
This is a science experiment. It is never too early to begin introducing science into a child's life.
Science starts with questions and in this case it starts with something fun.
To complete this experiment you need the following materials.
Bowl
Full cream milk
Food colouring
Dishwashing liquid
The procedure of the activity is completed by working through the following steps:
Pour enough full cream milk into the bowl to cover the bottom.
Use the eye droppers to drop one or two drops of food colouring around the perimeter of the milk.
Drop one drop of dishwashing liquid into the middle of the milk.
Watch
The first skill learned/taught in science is observation. Ask the children to describe what they see. The five senses are the first stage of observation.
As the experiment progresses they will observe different things and the vocabulary they use will change. Science gives children a chance to practice language they do not use every day.
Why it happens
It might not make sense to explain why things happen to children if they are not capable of understanding but with simple everyday things it is always good to attempt explaining how and why things occur.
In this case milk is made up of fat and water, the detergent bonds to the fat which reacts violently moving around the bowl as the bonds between the fat and the water is affected. The food colouring is moved in this reaction as it is less dense than the milk and easily moved.
Eventually the reaction will slow down and then stop when all of the detergent is bonded to fat.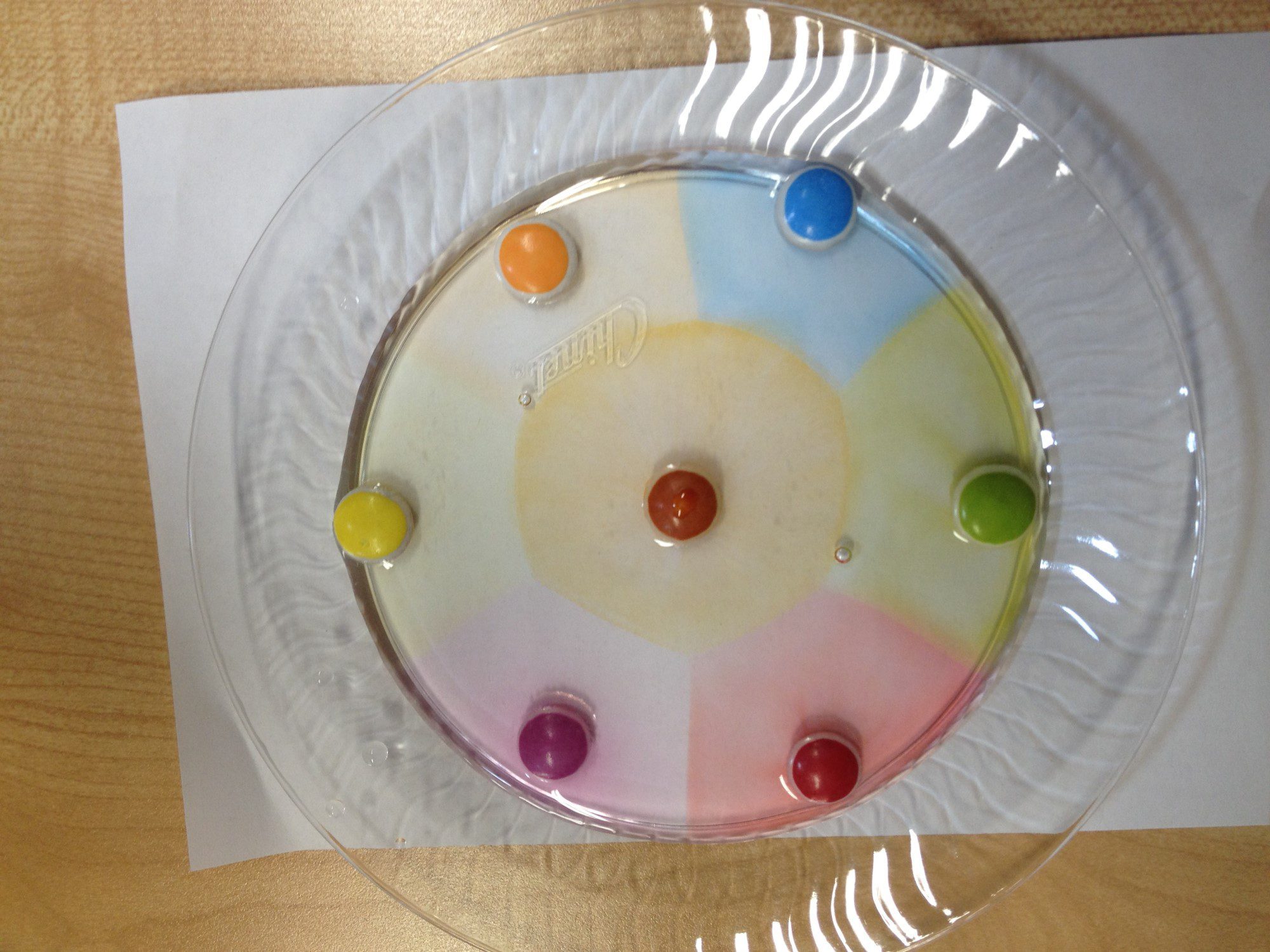 Smarties Experiment
To complete this experiment you need the following materials.
Bowl
Water
Different Coloured smarties (or M&Ms)
The procedure of the activity is completed by working through the following steps:
Pour enough water into the bowl to cover the bottom.
Place the smarties around the bowl (they need to be spread out but they can go anywhere and as many as you like).
Watch and observe. This is a chance to describe what is happening.
Why Does It Happen?
The segmentation in the water is a result of sugar and gravity.
When the smarties hit the water the sugar coating starts to dissolve. The sugar, which is coloured, sinks to the bottom because it is heavier than water. The more coloured sugar leeches out of the smartie the further out the colour is pushed until there is none left.
When the two colours meet they stop moving because they are both as heavy as one another and exert the same force.
Sorting Table
To complete this activity you need things to sort and something to sort them into/somewhere to sort them out into piles. 
There is no right or wrong way to sort.
Using tongs to sort will encourage children to develop fine motor skills and exercise the muscles in their hands as well as requiring them to slow down as they select items to be sorted.
Sorting is a good chance for your child to communicate with the other children . Encourage them to come up with their own way of sorting and to explain it to you or other children. If they cannot agree take turns – sort one way and then put them all back in and try again.
Sorting requires a person to classify things, identifying what makes them the same and different which feeds into a range of activities they will do at school and in general life. We sort everything; vowels and consonants, odd and even, etc. Sorting requires children to use language about classification which leads to mathematical language.
As sorting activities grow more difficult the classifications can be given given, by colour, by the size, material, shape, etc.
Anything can be sorted and it's a great activity for keeping children engaged and occupied.
At Home Science
Science is part of everyday life. Baking, gardening, pets, cars and boats are just a small list of ways that we can experience science.
Bake a cake
Baking is mixing dry and wet ingredients to take advantage of the specific characteristics of each to make something different. It is a chemical reaction (you cannot separate the cake back out into the original parts).
Observation is easy to do here, what happens when you add the wet ingredients to the dry, what changes if you add cocoa to a cake mixture. What did the cake look like before and after baking?
General cooking
Observe what happens when you cook an egg, scramble an egg, etc.
What happens when you cook toast?
There is a never ending opportunity to practise observation skills and watch science at work.
Go to the Zoo or Aquarium
The zoo or aquarium are excellent places to observe biology. You can look at the different types of animals, reptiles, mammals, fish, amphibians, marsupials, etc.
Talk about the characteristics of the animals, what's similar/different.
Reading the animal panels is also a great source of information.
Gardening
Seeds like avocado pits can be placed in wet cotton wool and they will still sprout giving children a chance to observe plants growing.
Play dough
Making your own play dough is fun and full of science. The recipe I use is:

2 cups of plain flour
4 tablespoons of cream of tartar
2 tablespoons of cooking oil
1 cup of salt
2 cups of boiling water
Food colouring

You mix it all together in a bowl (I divide the amounts in quarter so that I can make four colours – each one will be about the size of an adult's fist).
You can add coloured sand or glitter to give the play dough texture.
If you keep it in a sealed food container it will last for at least two months.
Go for a bush walk
On a bush walk you can observe flora and fauna.
Reading a book from the library is a great connection to science, we even have books on simple science experiments you can do at home.
Our science books are found in the non-fiction section in the 600s. Here are a few of our new junior non-fiction books to check out.