Today is International Women's Day. Celebrated on 8 March every year, 
International Women's Day (March 8) is a global day celebrating the social, economic, cultural, and political achievements of women. The day also marks a call to action for accelerating women's equality.

IWD has occurred for well over a century, with the first IWD gathering in 1911 supported by over a million people. Today, IWD belongs to all groups collectively everywhere. IWD is not country, group or organisation specific.

#IWD2022 #BreakTheBias
This year's theme is Break the Bias.
To celebrate IWD, today's blog is about women authors and illustrators. 
In My Mosque by M.O. Yuksel and Hatem Aly
A big-hearted global celebration of mosques and the diverse worshippers that they welcome every day! My mosque feels safe like home. In my mosque, we pray for peace, love and joy. You are welcome in my mosque. Do you go regularly to a mosque? Or perhaps you've never been inside one? This joyful book invites everyone – worshippers and newcomers alike – to step inside and meet warm, welcoming mosque communities all across the world. Join young Muslim children, their families and friends, as they learn, pray, eat, help others … and play!
This is a beautiful book sharing the many ways that different people celebrate within a mosque and for those who have never been inside a mosque it is a wonderful exposure to the life of people who worship there, and will perhaps debunk some misconceptions about Muslim people. 
Baby Business by Jasmine Seymour
Baby Business tells the story of the baby smoking ceremony that welcomes baby to Country. The smoke is a blessing – it will protect the baby and remind them that they belong.
This book was shortlisted, and won last year's Children's Book Council of Australia's Book of the Year Award for New Illustrators. It's a wonderful book with takes the reader through the baby smoking ceremony – which is for the women and children. 
Want To Play Trucks? by Ann Stott and illustrated by Bob Graham
Jack and Alex meet almost every morning in the sandbox at the playground. Jack likes trucks – big ones. Alex likes dolls – pink ones, with sparkles. And tutus. But Jack doesn't want to play dolls, and Alex doesn't want to play trucks. Luckily for Jack and Alex, the day is saved with a little bit of compromise and the easy acceptance that characterizes true friendship… What about dolls who drive trucks?
Touching on gender stereotypes and the importance of compromise in play this is a book that reminds us that everyone is an individual and dolls can drive trucks! 
Once Upon a Small Rhinoceros by Meg McKinlay and illustrated by Leila Rudge.
Once, there was a small rhinoceros who wanted to see the big world. So she built a boat. And sailed away … From the duo behind award-winning picture book No Bears comes a simple yet inspirational tale about challenging the norm, pushing boundaries and being true to oneself.
I love this book, I love the main character, and I love the story. I fawned all over it in a review a while ago. Our rhinoceros wants to see the world and so she goes out and does it – a wonderful message to anyone about following your dreams and not worrying about the people who say 'you can't'. 
Songs
Rather that put some rhymes in my blog today, I decided to share a couple of songs. No matter your feelings on old-school Disney princesses I think we can all agree that Encanto is amazing and the Pressure song is so good that I wanted to highlight it here, both because of the wonderful female characters in the movie and the message of the song. 
I figured I'd stick to the theme and also included a sing-a-long version of one of the songs from Brave which was also a great movie that dives into a mother-daughter relationship. 
Craft
Purple is the main colour we use for IWD and we wanted to celebrate women with our craft, a flower magnet.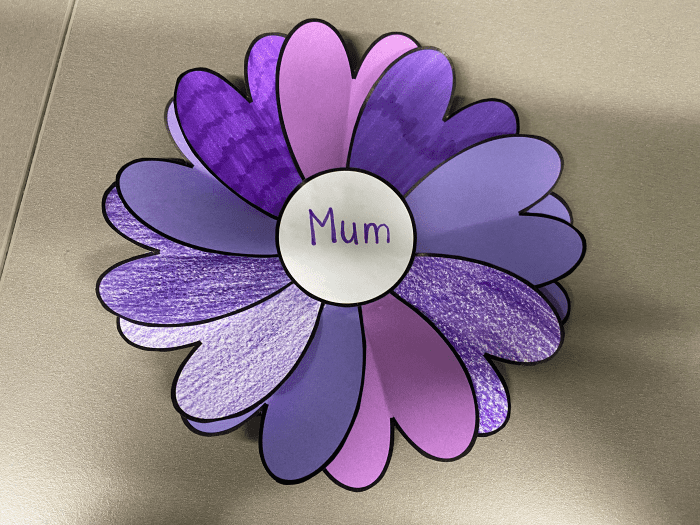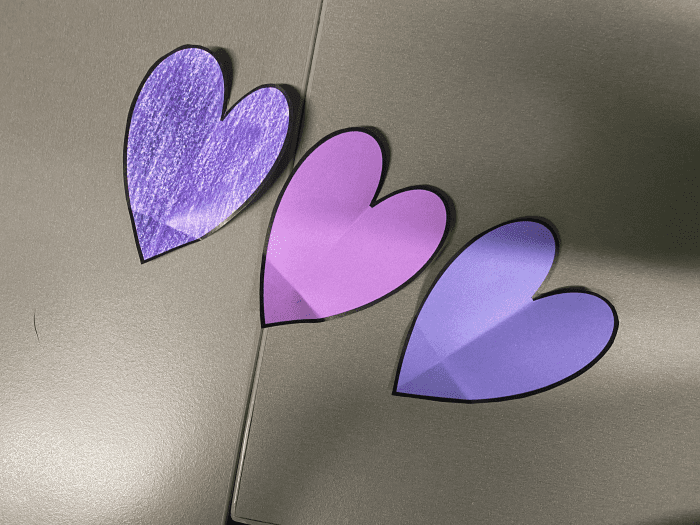 What You Need:
purple paper, white paper
scissors
glue
writing implement
magnet, optional
What You Do:
Print the template on white and purple paper. 
Colour in the template on the white paper. 
Cut out the hearts.
To make them come forward like petals, fold down the middle and then open and fold at the bottom where you will glue (see picture two)
Stick the hearts onto one of the circles overlapping to create the petal design. 
Write the name of a woman you admire/love/look up to on another circle and glue on. 
Attach a magnet to the back. 
Give it to the person you admire/love/look up to.