Stories are magic. They help us find a door to another world giving us hope. How many of us have wished we had the magic moments in fairy tales come true in real life? For example, talk to the birds like Cinderella, change outfits like Elsa, go on a magic carpet ride like Aladdin or maybe have long hair like Rapunzel. Ever dreamt of activating superpowers with the magic words Abracadabra, Alikazam, Hocus Pocus or Hey Presto…??
Dragons, castles, talking animals, friendly ghosts and hidden secrets used to be my favourite magic themes. I get easily attracted to the bright, vibrant colours and loud sounds in stories. My favourite English teacher in high school would read out amazing stories in class. She would give distinctive voices and bring stories to life. She would shout, become excited or sad according to the story. That to me was pure magic.
Question: The original novel "The Wonderful Wizard of Oz" featured a lengthy magical chant.
It ran "Ep-pe, Pep-pe, Kak-ke! Hil-lo, Hol-lo, Hel-lo! Ziz-zy, Zuz-zy, Zik!"
When did the characters use this magical phrase? (scroll down for answer)
Kids are easily drawn to magic and fantasy books. I enjoy reading magic books to children. It's very engaging, fun and interesting. It helps generate curiosity in kids. In this post, we are going to show you a few books about magic with some rhymes and a craft that you can share with your tot.
Hocus Pocus Diplodocus
by Steve Howson; illustrated by Kate Daubney.
The story of the world's first magician and how the dinosaurs disappeared! As soon as Hocus Diplodocus was born he knew he was different, especially when things started to disappear with a twitch of his tail! Unfortunately he can't always control his powers. One day, after saving his friends from a T-Rex, it is decided that Hocus should put on a show. His shows become more and more popular, until one day thousands of dinosaurs gather and poor Hocus sneezes transporting all dinosaurs into outer space!. Ages 5+
This is a great book with lots of magic and funny situations. It's a story about the world's first ever magician – Hocus P. Diplodocus and explains how dinosaurs left the earth. It will be loved by all young dinosaur fans. At story time, I got all the kids shout Atishoo when Hocus sneezed and it was extremely hilarious.
Possum magic / written by Mem Fox; illustrated by Julie Vivas.
Grandma Poss uses her best bush magic to make Hush invisible. But when Hush longs to be able to see herself again, the two possums must make their way across Australia to find the magic food that will make Hush visible once more.
This is an Australian favourite classic picture book. Together with the kids, I got to learn the names of Aussie dearest and popular food such as lamingtons, pumpkin scones and Vegemite sandwich. The journey of Grandma Poss and Hush trying to find the magic food begins in Adelaide and ends in Tasmania. This book is amazing down to the last page. I would recommend it to anyone.
What's in the Witch's kitchen? ​/ Eric Carle
What's in store for you in the Witch's kitchen? When you open the special magic flaps, will you get yummy surprises or yucky shocks?!
This book is always a big hit at story time sessions. All the kids have fun choosing doors. The witch has hidden a trick and a treat in her magical kitchen cupboards. Which one you find depends on how you open the doors. A great, funny and gripping book. It's filled with hilarious rhymes, nice and gross things such as lollipops, nasty goblin's pee, cakes and spiders. Children will be simply excited.
One little Two little witches
Witches are well known for their magic spells and powers. Enjoy this counting rhyme about witches. An easy and fun way to develop basic number identification.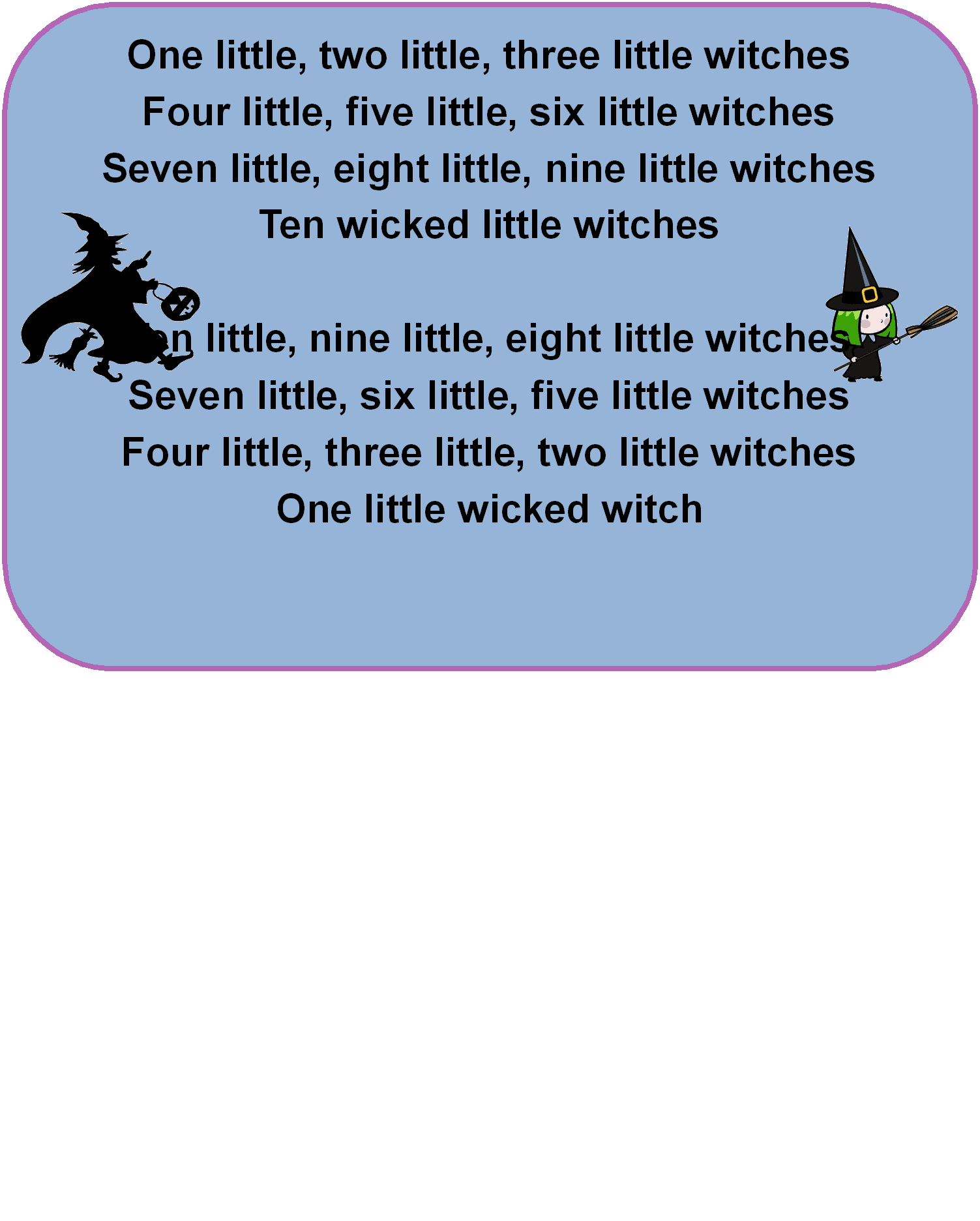 Black Cat
Cute and Intelligent cats play an interesting part in most magic stories. Another fun action rhyme about a black cat. It's also a favourite during Halloween. It helps build imagination in little minds.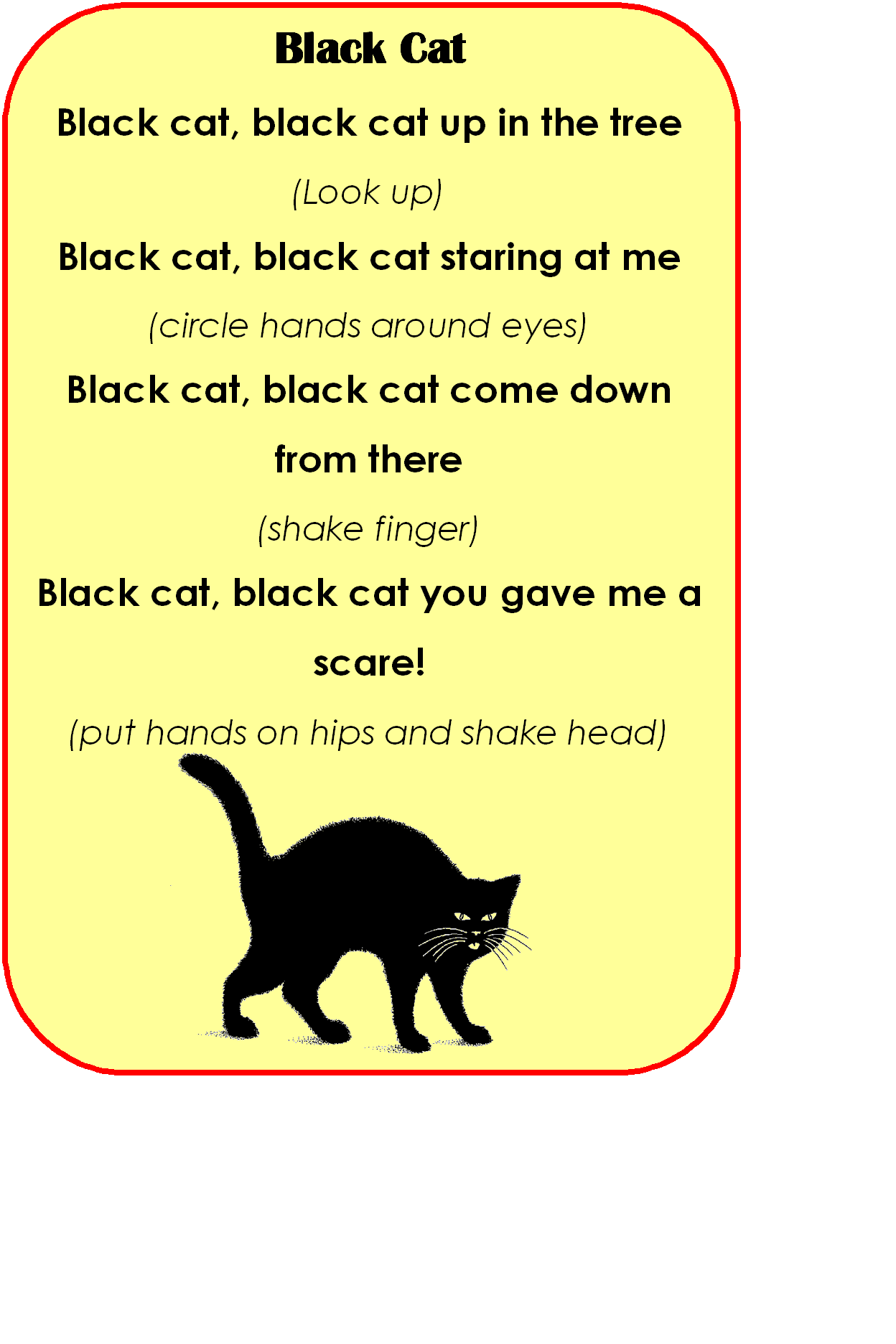 Instructions:
Print out your horse on brown construction paper and cut it out. You can also print it on white paper and colour it.
Sticky tap ribbon to the back,
Curl the two pipe cleaners together,
Sticky tape the pipe cleaner to the star
Answer: Summoning the flying monkeys
(https://www.funtrivia.com/trivia-quiz/Entertainment/Hocus-Pocus-Alakazam-316253.html)