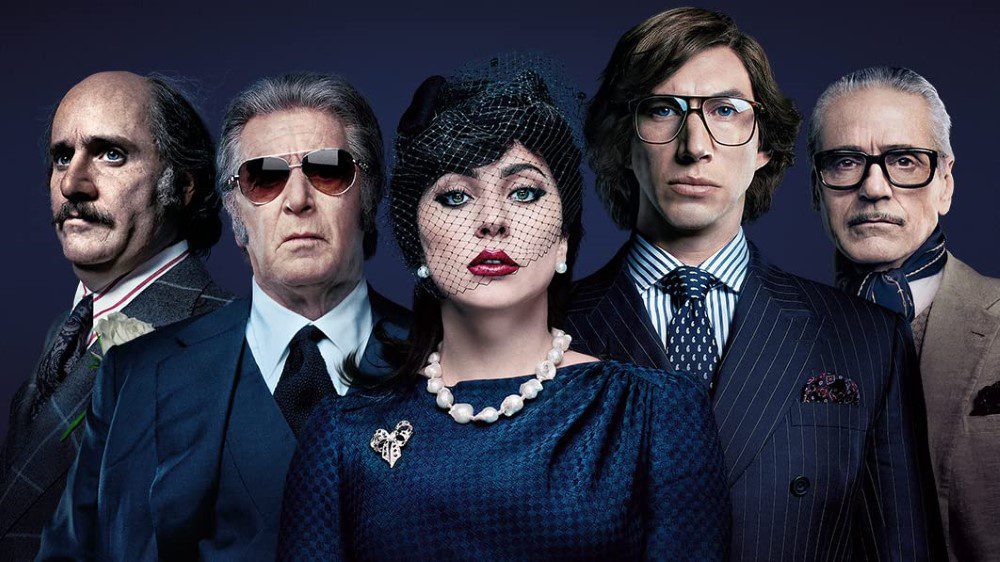 The main cast of House of Gucci
I didn't know anything about Gucci, other than the fact in 2022 the name of the brand is also a synonym for the word "good". After watching House of Gucci I still don't really think I learned anything new about the brand itself, but I did find out more about the people behind the leather handbags. Adam Driver and Lady Gaga play the two main characters supported by Jared Leto, Al Pacino, Salma Hayek and Jeremy Irons. It was a bit strange at first watching them all speaking in English with Italian accents (debatable whether the accents themselves are good, I'm probably the wrong judge) but ultimately, I was able to suspend my disbelief that a group of Italian-born people would be speaking English amongst themselves for, apparently, the sole benefit of the audience.
Once you can get over that, I found the film to be generally entertaining and interesting. Ridley Scott shows good range in his direction over recent years, from Alien: Covenant to this film, demonstrating his control over filmmaking whether it's science-fiction that takes itself very seriously, like Alien or Blade Runner, or something slightly more light-hearted and comedic with larger-than-life characters. Not to say House of Gucci isn't a serious film, if you know anything about the real life events you'd know that already, but it juxtaposes drama and comedy often enough that you wouldn't call it realistic.
Adam Driver as Maurizio Gucci
Lady Gaga as Patrizia Reggiani
That was the lens through which I was viewing this movie towards the end, in that that the characters weren't meant to be super faithful recreations of their real-life counterparts, but more so caricatures and over-dramatic representations (especially Leto's character). This flows over into the soundtrack, which is full of iconic 80s dance tracks mixed in with some more classical sounding Italian music. The visuals follow along the same vein, with some striking use of colours and framing that push the film into captivating territory, even if you aren't following the story thread. In a way it makes sense for the movie to be structured like this, considering the style and allure of Gucci as a fashion brand and the extravagant familial "House" of Gucci being the focal point of the story.
Some other reviews I read called the tone of this movie "inconsistent" but I took some of the more eclectic combinations of sound or performance as reinforcing the idea that Scott intended on making a stylized and captivating movie, not a strictly accurate retelling of events. I wouldn't say House of Gucci is for everyone, but if you like Gaga and Driver in their more character focused films like Marriage Story or A Star is Born, there's a good chance you'd like this too.