Linocut is a simple printmaking technique which can have distinctively attractive results. To start with, you only need a basic lino carving set, a roller, and a bit of lino print ink. If you do not have a press such as the one pictured below, the back of a spoon will do!
Linocut is a great craft to try in winter; cutting the lino can be a mindful and comforting art activity and does not need a large space. Your Library has three great linocut books on order (scroll down to the book links), which you can reserve now. These books explain tools, techniques, and creative ideas to create charming lino prints.
If you just want to try this printing technique, you might want to reserve the book Linocut : Learn in a Weekend by Nick Morley. The book is easy to follow with step-by-step instructions. There are also templates available to guide you from deciding on an image to the end process of printing. It is designed to introduce you to this printing technique in a weekend, so quite basic and compact.
The emu drawing on the right is an example of a suitable image for a linocut, in which characters are built not from details (as it is difficult to achieve details), but from the gesture of the emu.
When the drawing is transferred to a linocut, below is the picture. This one has the lino already mounted on top of a piece of wood, for easy handling when printing.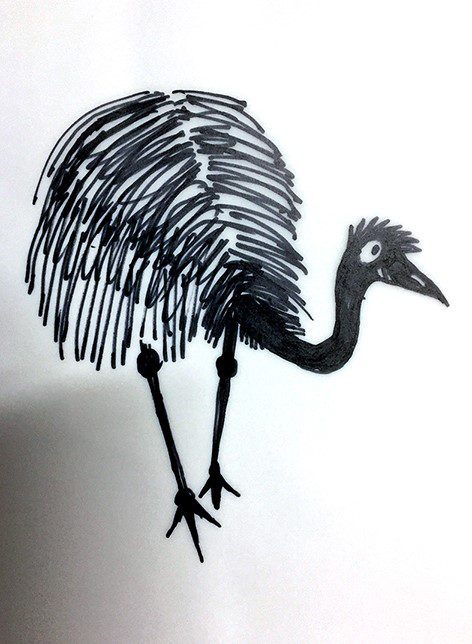 If your weekend with lino printing is enjoyable, you might want to expore further and know the technique better!
For those who want to go to the next level, try designing your own images. Sam Marshall in his book Linocut : A creative guide to making beautiful prints takes ideas from everyday life and turns them to illustrations which suit linocut. This book has 18 projects to inspire you to create your own printing with your own images.
You might want to have your own images such as the four lino prints in the feature image.
The right image is the finished product! Cute little emu!
If you are now hooked on this craft like me, the third new book about linocut in the Library collection is Linocut and Reduction Printmaking Design and Techniques by Laura Boswell. It will take you further into techniques, which push your creativity using linocut. The writer deals more with reduction printing techniques and the 300 illustrations in the book will inspire you to create more beautiful printing.
Explore the satisfying craft of linocut using these books, or browse the huge range of art and craft books in your Library collection this season!