I have to admit, I did think Cyndi Lauper when I decided to blog about TIME and its infinite ramifications. Not so much running around with some straggly haired dude, bleating about 'if your lost and you look then you will find it' which by the way is a COMPLETE LIE. I just moved house and lost my brand new mascara and it was lost and I looked and didn't find it so ha Cyndi! I digress, TIME (I will write in bold due to its immensity) is a philosophical subject that has confounded people through the ages. Sages, scholars, medicine men, witch doctors, and bears. Yes, bears. They to have wrestled with TIME'S dimensions, adhering to schedules, calendars, and post-it notes.
In Stella Blackstone and Debbie Harter's picture book Bear Takes A Trip, bear is a slave to TIME. A fool almost. He's up at seven, making his bed, washing his face and then packing a suitcase with an attention to detail that would make all you single ladies squeal to meet him. I will admit I did think (judgemental I know) that here is a bear that needs to cut the apron strings but still, he hops on that bus (obviously his mum drives him everywhere) and meanders along to meet his friend; another bear (single also methinks). Anyhoo, they train and eat picnics, following the coast and eventually finding their holiday spot; cabins by the seaside where they sail and climb and do everything but crack open Solo cans and down them in one gulp. TIME is a MANLY tool here, a journey into bromance and brotherhood. Bear and Bear want to stay here forever and ever and this is proven by their utterly joyful dance in the rain at the end. I haven't seen such joie de vivre since I told my husband my sister would have the kids for the week. The pictures are bold and bright using clear lines and primary colours.
He conquers TIME in a Conan the Barbarian way.
 
I looove The Bad Tempered Ladybird. Any woman that perpetually goes around saying 'do you want to fight' has my vote. Her temper tantrum begins at five in the morning and doesn't end till six that evening. On the cover, she looks like I did when I realised I'd have to replace my mascara. Not happy people. However, Eric Carle is a TIME and size genius. Ladybird battles stag beetles, boa constrictors and even a whale and all with a military like precision. Eight o'clock; your going down praying mantis. Eleven o'clock; prepare to meet your doom skunk. One o'clock; hyena, you are merely recycled star dust. It has to be admitted that ladybird does tend to shy away from confrontations but it's a woman's prerogative to change her mind. The illustrations are typical Eric Carle creations; colours bursting off the page with thick, blatant pictures that steal each page and focus the eye. Eric Carle's books are beautiful and fun and he's not afraid to let his characters be brutish or greedy or even a little bit out of step. I think kids love this about them and its what keeps them coming back for more.
Ladybird is a pugilistic masterpiece.
In this celebration of TIME, let us remember that song and dance must play their part. Bath time is an essential exercise for children. Smelly kids do not marry and propagate; henceforth they stay at home till their forty five and start wearing mum's A-line dresses and giant knickers.
Bath Time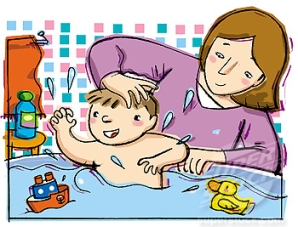 A rubber duck and a sailboat,
I watch my bath toys sink and float.
They keep me company in the tub,
'Til mother makes me soap and scrub.
I love to take a bath each night,
And go to bed all clean and bright.
Of course, the perennial favourite, Hickory Dickory Dock cannot and will not be overlooked. Harmonicas and triangles ready and for all of you that are musically challenged, just go stand off to the side and hang your head in shame. In an E minor with just a hint of F flat…
….
Time of course, is worthy of illustration. You could draw huge clock motifs over your neighbour's car and scream 'wake up' at half hour intervals through their bedroom windows but this seems like a lot of work on your part, so try this:
What you need:
Paper Plates
Split Pins which are sometimes called paper fasteners
Pens or crayons
Card
Paper numbers (for younger children)
Scissors
How to make 
Cut out the hands from contrasting card, making one longer than the other for the minute hand.
Place the numbers round the clock, this is easier if you to the 12, 3, 6 and 9 first.
Make a small whole in the center of the plate for the hands and use the split pin to secure
Variations – You can use two paper plates like we did to make lift up flats and put the minutes underneath.  Alternatively you can add them to the outer rim of the paper plate and colour the minutes past one colour and the minutes too another colour.
I think I have covered everything that needs to be covered in regards to TIME. Bears, lady birds, giant knickers. If you are still bewildered and wandering aimlessly around your living room mumbling, time….. bears kayaking….Tony Abbott…..contract killer….. time… then you obviously haven't been paying attention and TIME has just run out.