What's your favourite scary movie…?
Welcome to Halloween Horror Month: the evolution of the horror movie, all available on dvd or streaming on Kanopy from your local Cockburn branch.
Coming up this month: Classic horror, the slasher era, the 90s revival, and modern chillers. There's a sample below to get you nice and frightened, but the most important question is…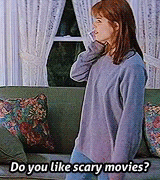 Horror movies through the decades
The Exorcist (1973)
The classic tale of demonic possession that sent people screaming from theatres.
Click any of the links above to go straight to the movies on the library catalogue, and let us know in the comments what your favourite horror movie is.
Have we missed any out? Were you like me, too afraid to watch horror until you were an adult? Or did you see Friday the 13th as a child and haven't looked back since?